Smart Net Manager
is a Custom Task Manager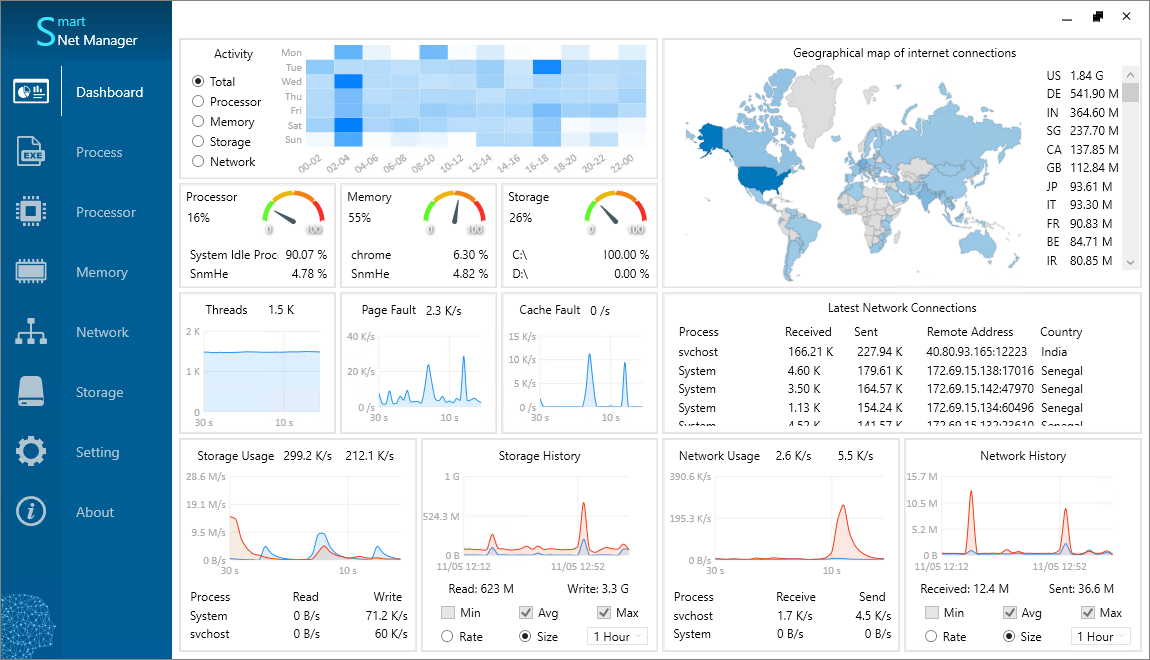 Try Smart Net Manager
You can download and install it right now.
Operating System Manager
Smart Net Manager is a multi-purposed application created to manage all parts of an operating system. You can use it to Monitor, Control and finally Manage various parts of your system like the Processor, The Storage, The Memory, The Network, And even the processes that are running on your computer.
Features
Processor Management
SNM monitors many information about the processor. Online & history diagrams of Usage/Idle Time, DPC time, Privileged time, User time, Interrupt time, Interrupts per second and various gauges are the tools which the software provides them for you.
Memory Management
This software monitors and manages many features of the memory. Physical Memory, Virtual Memory, Page Faults and Cache Faults are the important factors, which you can control them.
Network Management
Smart Net Manager has extended features regarding the control and monitoring of the computer network. You have TCP connection monitoring, a geographical map of the connections to your PC, Internet Monitoring and loopback Usage Monitoring.
Storage Management
Easily manage and monitor your storage, you have access to practical tools such as the Storage's Usage Data and the Accessed Files.
Process Management
Real-time access and the history of the information related to the processes, which are running on your computer. You can view and control the following aspects of the processes on the computer:

• All the internet and local network connections of a process.
• The details of data that are transmitted.
• All of the files which are accessed by the processes.
• Amount of CPU, Memory, and Storage, which are used by a process.
More Features
Smart Net manager has also more extended information and control tools for Handles, Threats, Kernel/User Modes and of the processors, which are run on your system.